Pa-Kua is an ancient knowledge that has served humanity, from ancient times to the present, in the attempt to understand the changes and adapt to them in order to live in a state of greater harmony. In the international League of Pa-Kua, we approach this ancient and exciting knowledge through the practice of one or more of our "disciplines".While the name 'Pa-Kua' is shared with other Eastern disciplines, our teaching system is unique and has nothing to do with them. What is taught in our League is a complete, practical and enormously useful knowledge for all people regardless of their age. It is practiced in a non-competitive way, always paying attention to the possibilities and needs of each student.
The pillars of our teaching are:
Acceptance of all people, regardless of race, creed, gender or nationality
Coexistence in a climate of camaraderie and friendship
Working with all students, no matter their level or strength. Always taking care of our partners
Training in an area of ​​harmony where the students benefit from physical practice and healthy breathing while learning to improve their diet
The first stories about the origin of Pa-Kua knowledge begin in Chinese mythology. The most well-known myth takes place about 5000 years ago, when Emperor Fu-Hsi was meditating on the banks of the Yellow River when a turtle emerged from the waters. In his shell, Fu-Hsi could glimpse the eight states of change or trigrams that make up the Pa-Kua symbol, which were intended to be used to understand the events of the Universe.
The International League of Pa-Kua
Master Rogelio Magliacano began practicing Chinese and Korean martial arts at age 9, obtaining high rankings in several of the styles in which he trained. His search for knowledge also led him to the study of various oriental therapeutic techniques.
After 25 years of training, he began studying Pa-Kua Knowledge in the East and later founded the International Pa-Kua League in 1976. The League has expanded throughout the world through the work of his students, with locations in Argentina, Brazil, the United States, Germany, Portugal, Italy, Spain, Switzerland, England, Uruguay, Peru, Canada, Bolivia and Israel.
In 2006, after 30 years of leading the International League, Master Magliacano appointed Master Nicolás Darío Moyano as his successor. Master Moyano presides over the League with Master Fernando Martín Sandri. Both are continuously working towards bringing all the processes linked to teaching to higher levels of excellence. To do this, they periodically review the programs and teaching methods.
The Masters responsible for the League, together with the most graduated Masters, periodically visit the 200 schools worldwide where Pa-Kua is taught, and travel to China on a regular basis to continue researching the various branches of Eastern knowledge.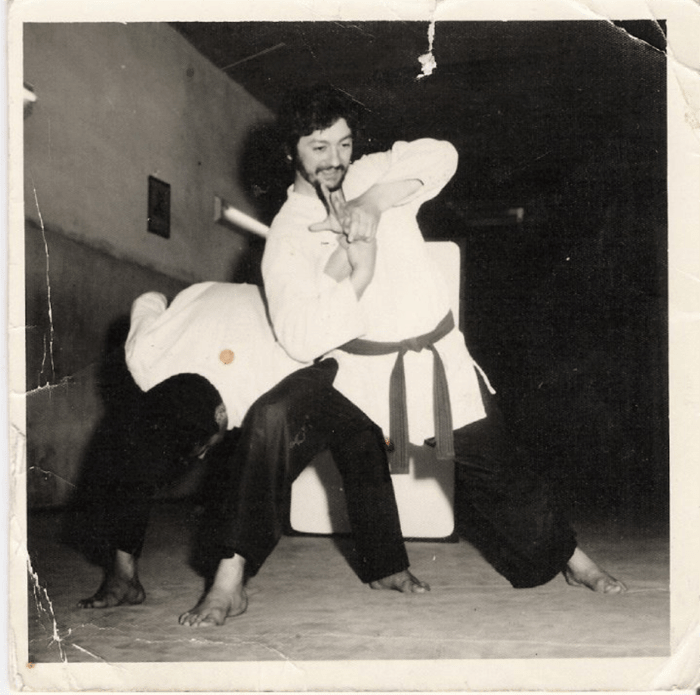 M. Rogelio I. M. Magliacano
(70s)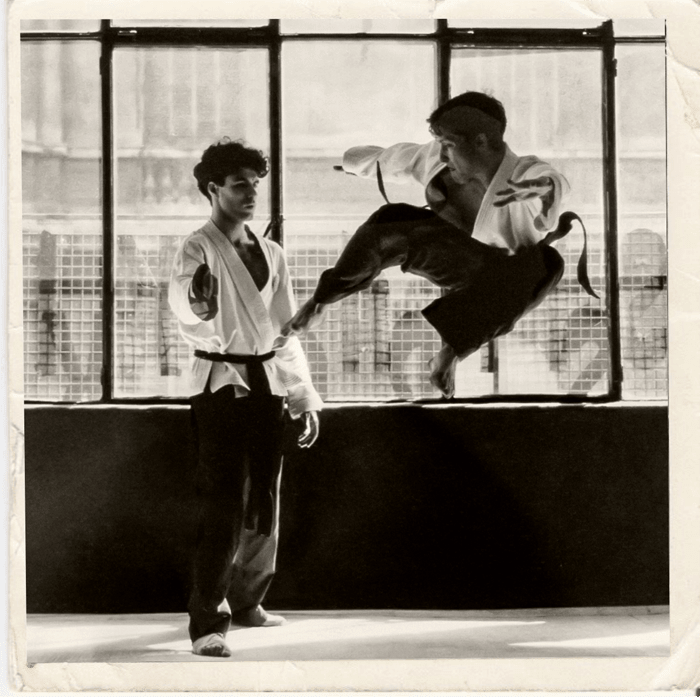 M. Nicolás Moyano and M. Fernando Sandri
(1991)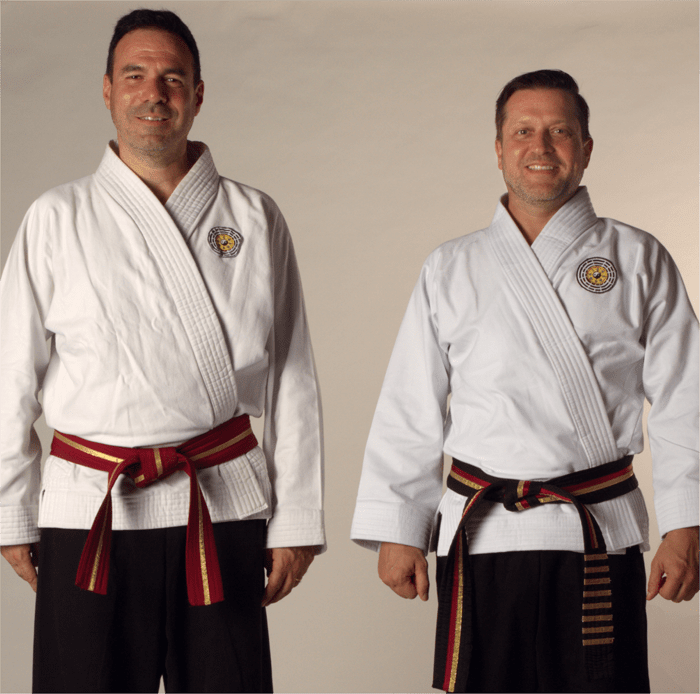 M. Nicolás Moyano and M. Fernando Sandri
(At present)
Estou confinada em um kitnet sozinha, trabalhando remotamente, sentada em cima de uma cama com o notebook por falta de espaço adequado. A melhor hora do dia para mim é quando finalizo meu trabalho e inicia a aula online, eu me levanto e me movimento, vejo os colegas e o mestre pela tela do computador e posso interagir com eles.... isso é realmente maravilhoso.

Pakua, muito obrigada por me acompanharem nesse momento, está fazendo total diferença na minha vida!!!

For me, the online classes are a lifeline, keeping me connected with the Pa Kua family, and keeping alive our spirit that we might have something special to return to once this crisis is over.

Ich bin total froh, dass der Yogaunterricht weiterhin stattfindet. Es ist die eine Stunde in der Woche wo ich ganz abschalten kann und mit Freunden Sport mache. Das geht mit dem onlinekurs erstaunlich gut und macht total Spaß.

While stuck at home, online Pakua classes are something I really look forward to and appreciate. As I hop onto class, it's great to see others and still work together and have some positive human interaction. As we do various exercises depending on the class, it keeps me active at home while also providing a sense of peace and calm that is much needed.

Master David Clawson is also great as he considers my (students') home environments (space/sound/time) while making sure we get as much out of the class as possible with the space we have. Even though my living room is small, we find a way to make it work and have fun while doing it. Thanks for all the effort into putting on wonderful online classes; look forward to the next one!

Tenho uma profissão bastante agitada, devido à quarentena resta somente o estresse do trabalho administrativo e seria absurdamente impossível manter minha sanidade mental e minha disposição física se não fossem os treinos online.

Treinar em casa me ajuda a desprender da carga negativa da profissão, enquanto me mantém conectada com pessoas que quero bem, pessoa amigas. Reforçou a minha percepção de que sempre é possível a gente se adaptar às situações adversas que forem surgindo.

Vivo en un departamento en Capital Federal de dos ambientes con mi madre (77) que padece demencia vascular y mi hijo (12) que tiene TGD. Hasta ahí el panorama es poco feliz... Yo estaría recibiendo mi cinturón de primer grado en marcial en dos meses, mi hijo es cinturón amarillo con dos puntas naranjas y mi madre no practicaba ninguna disciplina hasta que esta semana se animó a moverse con Pa Kua Energía, identificó algunos puntos y masajeó esas zonas para activarlas. La cuarentena agravó su sedentarismo así es que con pocos recursos reactiva la oxigenación, vivencia un nuevo canal de comunicación y se fortalece a la vez que elimina algo de las calorías que viene consumiendo.

Todos nos encontramos atravesando una etapa complicada. Muchas veces no sé cómo sentirme con todo esto. Mi única certeza es que las clases online me devuelven a mi centro. Puedo compartir con mis compañeros y maestros, distraerme, tener mente y cuerpo ocupados. Es el momento en el día que me renueva las pilas para seguir con tranquilidad y paciencia, sobre todo, es el momento en el que soy muy feliz.

Sin dudas, PaKua cada día me enseña nuevas cosas de formas que nunca espero... ¡muchas gracias a todos!

Por ahora me encuentro conviviendo con mis familiares, y es un cambio ya que estaba acostumbrada a tener mi espacio y mi rutina fuera de la casa. Pero el momento que tengo para hacer la clase virtual de yoga chino (sintonía) me ayuda a continuar con el ejercicio físico manteniendo la armonía con el entorno, y a no perder el contacto con los maestros, son actividades saludables y necesarias para uno mismo.